Human Security and Communications(HC)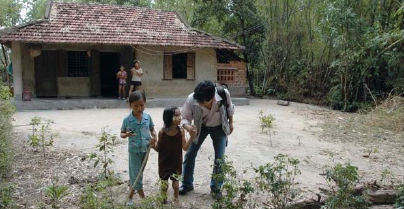 Under construction
Affiliated Projects
Contemporary Socio-Cultural Research Project
IT and the Learning Environment Project
Language Education Design Project
Studies of Modern Society
Graduate School of Media and Governance > Registration Numbers of Graduation Project
Interview
Keeping Perspective on Human Security
Fumiya Hirataka
Professor, Program Chairperson
When students go out to do research, I want them to focus on first defining issues in the field before dealing with an issue. For example, if we are talking about how to support Japanese as a foreign language education on the local level, there is a tendency to try to solve problems using the large budgets of the national and local governments. Of course, national policies are important; however, if you try to examine problems only from the perspective of the whole country or large areas, you will overlook fundamental issues of 'what the really required support is'. If you do not go to where Japanese language support is actually taking place to see what is necessary for foreigners learning Japanese and for those teaching them, how the networks around them are functioning, or what is required for those administering these networks, you will never be able to provide support that connects to the concerned parties. People usually understand their lives in ways that do not appear in statistics or in ways that cannot be easily recorded. For example, people's human relationships and connections to the local community are not easy to document, but they are the basis of everyday support. The policy of the HC Program is to have students pay attention to these issues, examine problems that occur in people's everyday lives and the communities that support these everyday lives, and consider ways to solve these problems.
Faculty Members (as of April, 2018)
Note: "◎" indicates the Program chairperson.
| Name | Title | Research Interest(S) |
| --- | --- | --- |
| BABA,Wakana | Assistant Professor | German Language Education, Modern German History |
| FUJITA,Mamoru | Assistant Professor | Latin American Studies, Anthropology of Development, Aynu Oral Literature |
| HIKAMI, Tadashi | Professor | Chinese Classical Literature, Chinese Traditional Opera |
| ◎ HIRATAKA, Fumiya | Professor | Foreign Language Education (German and Japanese as a Second Language), Sociolinguistics |
| KUNIEDA, Takahiro | Professor | French Literature, French Language Education |
| MIYASHIRO, Yasutake | Associate Professor | Political Philosophy, French Philosophical thoughts |
| NISHIKAWA, Hasumi | Assistant Professor | French Literature, French as a Foreign Language |
| OGUMA, Eiji | Professor | Historical Sociology |
| SUGIHARA, Yumi | Associate Professor | Japanese Language Education, Ethnomethodology and Conversation Analysis, Intercultural Education |
| TAKAGI, Takeya | Assistant Professor | Korean Language Study, Sociolinguistics |
| WARAGAI, Ikumi | Professor | Germanistik, Didaktik |
Sub-member
| Name | Title | Research Interest(S) |
| --- | --- | --- |
| HIROSE, Yoko | Associate Professor | International Politics, Comparative Politics, Political Development Studies, The Transcaucasus Area Studies |
| JIMBO, Ken | Professor | International Security, Security in Asia-Pacific, Regionalism in East Asia, Japan's Defense and Security Policy |
| NONAKA,Yo | Assistant Professor | Southeast Asian Studies (esp. Indonesia), Malay-Indonesian language  |
| TAJIMA, Eiichi | Professor | The Study on China, Especially on Chinese Civil Society, Public Religions, and Chinese Christian Associations |
| WATANABE, Yorizumi | Professor | International Political Economy, GATT/WTO Law, Trade Policy, European Integration |
| YAN, Wanglin | Professor | GIS, Urban and Regional Environment, Sustainability Science |
Possibilities after Graduation
Careers include international organizations, development consulting, local regional government, private think tanks, general corporations, journalism, printed/audiovisual media and education. This Program also trains researchers for fields such as developmental social studies, international economics, international organization theory, regional research theory, human security theory, foreign language education, lingual culture, communications, etc.