Human Security and Communications(HC)
Thinking about language, culture, history, and politics based on individuals
KUNIEDA, Takahiro
Professor, Program Chairperson
Human Security has been defined as "freedom from fear, freedom from want." In this program, we tackle various policy issues within the dynamic context of co-existence and cultural exchange, while at the same time examining how to promote and protect human security at the individual and community levels. The common issues we research are related to the diverse nation-state systems, economic systems at different levels of development, various languages and cultures, and historical experiences, which we go beyond the existing framework to solve. We focus on solutions that are not only monopolized by public forms of government, but also achieved through people, ranging from transnational to diverse regional groups, and from the household to the individual level, to include all creative human endeavors. We pursue a variety of research on humanities, such as on language, culture, history, and politics, while taking into account the multifaceted nature of human existence, such as how a person is objectively analyzed as opposed to the subjective meaning in their lives, or the difference between people as individuals or as members of a group.
Affiliated Academic Projects
Hummanities approrch to modern society and culture
Interdisciplinary Japanese Studies
Multilingual and Multicultural Society
Language Learning & Teaching Design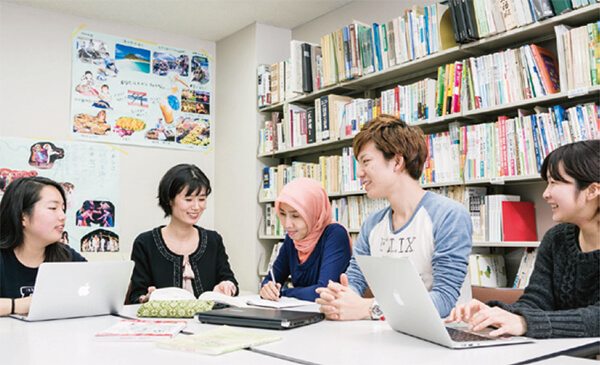 Faculty Members(as of April, 2021)
Note: "◎" indicates the Program chairperson. " "(Underline) indicates not Graduate School Committee Members.
""
| Name | Title | Research Interrest(S) |
| --- | --- | --- |
| Eiji OGUMA | Professor | Historical Sociology |
| Hasumi NISHIKAWA | Assistant Professor | French Literature, French as a Foreign Language |
| Hiromi HAKUTO | Assistant Professor | Japanese Language Education, Language Learning, Multicultural Coexistence |
| | Professor | Language & Teaching Design, Language Learning Technology, German literature, media studies |
| | Assistant Professor | Arabic Literature, Middle Eastern Society and Culture Studies |
| Mamoru FUJITA | Assistant Professor | Latin American Studies (esp. Andean countries), Linguistic Anthropology of the Andes, Aynu Language and Aynu Oral Literature, Anthropology of Development, Modern Japanese Literature (esp. Oe Kenzaburo) |
| ◎ Takahiro KUNIEDA | Professor | French literature, French language education |
| Takeya TAKAGI | Assistant Professor | Korean Language Study, Dialectology, Discourse Analysis |
| Wakana BABA | Assistant Professor | German Language Education, Modern German History |
| Yasutake MIYASHIRO | Associate Professor | Political philosophy, French philosophical thoughts |
| Yumi SUGIURA | Associate Professor | Japanese Language Education,Ethnomethodology and Conversation Analysis,Multicultural Education |
Submembers
| Name | Title | Research Interrest(S) |
| --- | --- | --- |
| Eiichi TAJIMA | Professor | The Study on China, Especially on Chinese Civil Society, Public Religions, and Chinese Christian Associations |
| Ken JIMBO | Professor | International Security, Security in Asia-Pacific, Regionalism in East Asia, Japan's Defense and Security Policy |
| Yo NONAKA | Associate Professor | Southeast Asian Studies (esp. Indonesia), Malay-Indonesian language |
| Yoko HIROSE | Professor | International Politics, Comparative Politics, Political Development Studies, The Transcaucasus Area Studies |
Possibilities after Graduation
Careers include international organizations, development consulting, local regional government, private think tanks, general corporations, journalism, printed/audiovisual media and education. This Program also trains researchers for fields such as regional research theory, human security theory, foreign language education, lingual culture, communications, etc.