Policy Making and Social Innovation(PS)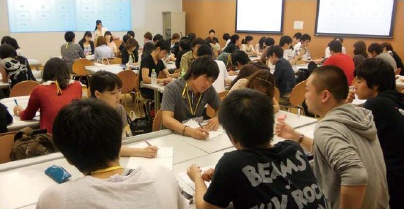 Innovation implies the development of new problem solving methodologies by combining social and, economic systems with technology. Although modern society has become complex, the spread of Internet and other information technology has directly connected people to each other. In modern society it has become increasingly important to possess a global perspective and find local solutions to problems. The need for a social and cultural perspective together with an understanding of technical and economic factors is of utmost importance.
It is imperative to develop a new approach and method to recognize, analyze and solve social, economic and political problems.
In order to seek a new approach to contemporary social problems, this Program focuses on the following subjects:
Institutional design
Policy formation
Management and financial governance of organizations such as government, international organization, autonomies, business enterprises and NPOs
Career planning of workforce in aforementioned areas.
The purpose of such research is to propose practical solutions through a cross-disciplinary speculation in related academic fields. These academic fields include sociology, political science, economics, psychology, cultural anthropology, financial engineering; and theories in game, business management, organization, finance, career design, marketing, entrepreneurship, and new industry.
Affiliated Projects
Assessment Project
Finance and Real Estate
Network Communities
Internet and Mass Media
Platform and Business
Public Policy (Consensus Building)
Health Care Policy and Management
Interreality
Cultural Policy Project
Aging and Migrant Workers
Life Knowledge in Practice
Environmental and Business Innovation
Urban Renovation Studies
Virtual Value Research
Graduate School of Media and Governance > Registration Numbers of Graduation Project
Interview
Cultivating Leaders Embodying the Principle that Knowledge Demands Action
Takeo Kuwahara
Professor, Program Chairperson
The PS Program primarily aims to cultivate professionals who boldly face problems in society and in organizations, who use the diverse wisdom of the past to produce practical knowledge that leads to solutions, and who will be leaders of society. Nowadays, various factors and systems interact in complicated ways, so businesses and government face challenging problems at every turn. As an example, let us consider the field of community development.
In community development fields, the aging of the population and the exodus to the cities have created serious tears in the fabric of industry, education, nursing care, and many other areas. In the past, communities could rely on various mutual-aid groups as a means of solving problems. However, these structures based on community ties no longer function and the financial situations of local governments have grown dire. Such communities are now in a trial-and-error stage of searching for strategies to keep them afloat.
From the viewpoint of management, for example, forging connections between various elements of society and encouraging collaboration and emergence have recently come to be seen as the 'silver bullet' for community development. So what should we do to bring this about?
In the PS Program, we believe it is important to go beyond analyzing problems and to always keep questioning and searching for how things should be. In addition, we aspire to make full use of various knowledge, to use thorough fieldwork and, occasionally, action research in sincerely confronting problems, and to search from various angles for concrete measures that will lead to solutions.
We sincerely hope that we, too, as innovators and through the synergetic effects of research, education, and the implementation of projects, can work together with students, so that SFC can make the difference in getting the world back on a healthy path.
Faculty Members (as of October, 2018)
Note: "◎" indicates the Program chairperson.
| Name | Title | Research Interrest(S) |
| --- | --- | --- |
| AIDA, Kazuo | Professor | Accounting (Nonprofit and Governmental Accounting, Performance Evaluation) |
| AKIYAMA, Miki | Professor | Health Communication, Community Health, Public Health, Epidemiology, Health Policy |
| CHIYA, Mamiko | Associate Professor | Labor Law, Labor Policy, Gender Policy |
| FREEDMAN, David J. | Professor | Poetry/Literary Theory: Children's Literature, Queer Studies |
| INNAMI, Ichiro | Professor | Decision Making, Negotiation & Organizational Behavior,Health Policy |
| ISAGAI, Yoshinori | Professor | Platform Design, Community Innovation, Family Business Management, Management Information System, Community Informatics |
| KATAOKA, Masaaki | Professor | Local Government, Data Science |
| KOKURYO, Jiro | Professor | Management Information System |
| KOTOSAKA, Masahiro | Associate Professor | International Management, Strategic Management, International Entrepreneurship |
| ◎ KUWAHARA, Takeo | Professor | Marketing, Consumer Research |
| MATSUI,Koji | Professor | Government Organizations |
| MIYAGAKI, Gen | Professor | Sociology, Economic Sociology, Civil Society, Community, Social Network, Social Capital and Trust |
| MURABAYASHI, Yutaka | Professor | Sports Business |
| NAKAMURO, Makiko | Associate Professor | Economics of Education |
| OZAWA, Taro | Professor | Public Economics (Public Choice), Game Theory (Strategic Studies) |
| SAITO, Kunifumi | Assistant Professor | New Types of Jurisprudence |
| SHIMPO, Fumio | Professor | Constitutional Law, Cyber-Law |
| SHIRAI,Sayuri | Professor | Monetary Policy, International Finance, Japanese Economy, European Economy |
| SUZUKI, Kan | Professor | Policy Making Process, Governance, Education Policy, Sports Policy, Information Policy |
| TAMAMURA, Masatoshi | Professor | Public Management, Social Marketing |
| TOUKAIRIN, Yuko | Associate Professor | Life skill program coaching |
| UEYAMA, Shinichi | Professor | Corporate Strategy, Public Policy, Public Management, Museum Management, Area Development |
| WADA, Tatsuma | Professor | International Finance, Econometrics, Macroeconomics |
| WATANABE,Kenji | Professor | Kampo Medicine, Health Informatics, International Classification of Diseases |
| WATANABE, Yasushi | Professor | Cultural Anthropology, Cultural Policy, American Studies |
| YAMAGUCHI, Shingo | Associate Professor | Information and communication policy, Radio policy, AI(NLP for social problem solution), Digital TV system, ICT system exporting strategy, Disaster management ICT system, Technical regulation and certification system |
| YANAGIMACHI, Isao | Professor | Modern Korea, East Asia Business Management and Business Cartel History (Japan and Korea) |
Sub-members of the Program:
| Name | Title | Research Interrest(S) |
| --- | --- | --- |
| FURUTANI, Tomoyuki | Professor | Spatial Statistics, Spatial Econometrics, Tourism, Urban Transportation Planning |
| IBA, Takashi | Professor | Pattern Languages, Creativity, Complex Systems, Social Systems Theory |
| SINJO, Atsushi | Associate Professor | Agri-InfoScience, Health Science, Information Policy, Computer Science |
| WATANABE, Mitsuhiro | Professor | Health Science, Anti-aging, Metabolic Disease, Naturopathic Medicine, Preventive Medicine |
| OSAKA, Takashi | Professor | Public safety policy, Police studies, Criminal Justice, Cybersecurity |
Note: "*" indicate the members of the graduate school committee; "◎" the Program chairperson. Names in parenthesis indicate those who are not the main members of the Program.
Possibilities after Graduation
The Program directs the creative energy of students in solving social/individual issues and helps them to develop skills to operate new resources such as IT systems, and also promotes human resources who begin venture entrepreneurship. The employment opportunities for graduates are diverse ranging from international organizations, developmental consulting firms, national civil services, regional governments, and private think tanks, to venture capitals, investment advisory groups, banking facilities, journalisms, educational circles, human resource development businesses, career support businesses, and entrepreneurs.