Environmental Design and Governance(EG)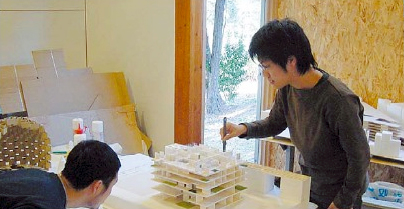 This Program explores the issues on environmental governance and space design, both on individual and global levels, in order to realize a sustainable society. Students in this program will be able to study themes related to environmental policy, public participation, cultural heritage conservation and landscape design. The program uses innovative tools derived from Information and Communication Technologies to monitor environment, identify problems, promote public-involved design and planning.
The Program is comprised of the following four sub-programs:
Global Environment: This sub-program elucidates the phenomenon caused by energy consumption. It assesses the impact of energy consumption on global environment seeks possible solutions by combining political, economic and sociological methodologies with physical sciences and engineering technologies.
Geo-Informatics: This sub-program develops GIS (Geographic Information System) and RS (Remote Sensing) system for urban and regional planning and environmental conservation. The use of web technologies for storage, management and services of huge geospatial information are new and important areas today. Students explore the potentials of such advanced technologies and develop their application to planning and policy making through analyzing, modeling and simulation spatially.
Urban Policy: In this sub-program, projects are conducted based on technology and management methodologies that are employed in the decision-making process of urban and regional development. It promotes policy instrument in responsible organizations of actual projects such as public institutions, local communities, business enterprises and international organizations.
Environmental Design: This sub-program uses innovative concept of urban planning, methodology and environmental design. Research projects go beyond the traditional framework of architecture, urban planning and landscape. Students can deepen their understanding of space and environment in the modern and future societies. They can also explore the creative arts and propose plans for living space design, architectural heritage conservation and resource management.
Affiliated Projects
Construction of Support Systems for Technical Development for Environmental Design
Environmental and Business Innovation
Urban Renovation Studies
Geo-informatics of the Environment and Development
Global Environmental System
Urban Rural ReDesign
Graduate School of Media and Governance > Registration Numbers of Graduation Project
Interview
Nurturing Innovators in Environmental Design at SFC
Wanglin YAN
Professor, Program Chairperson
The environment can be understood as a problem that crosses borders in various areas. Even a small residence, for example, has connections that constantly go beyond its borders: it affects the local cityscape, receives its supply of energy from areas far away, and eventually even influences climate change for the entire earth. Our happiness as human beings is deeply connected to a variety of structural social problems, including the joint ownership of the earth's resources, the balance between cities and nature, and the connection between social maturation and the revitalization of local economies. Finding solutions to these problems is an unprecedented challenge for human society, which ever since the Industrial Revolution has pursued an affluent lifestyle requiring international trade based on mass production and energy consumption.
The EG Program desires highly motivated students who will reexamine the lifestyles and social models of the 20th century to create a sustainable future in harmony with the earth's entire natural environment system.
The EG Program values reflection on the connection between global environmental awareness and specific ideas for manufacturing and design in local spaces. Our major goal is that through the innovation of information technology we will gain a comprehensive understanding of these problems, which in the traditional academic system were usually researched independently through separate specialties.
The EG Program develops the individual talents of students who will not be limited by the restrictions of conventional specialized fields, fosters rich and creative ideas, and produces the skills and spirit that will engender new spatial designs and environmental businesses.
Faculty Members (as of October, 2018)
Note: "◎" indicates the Program chairperson.
| Name | Title | Research Interest(S) |
| --- | --- | --- |
| FURUTANI, Tomoyuki | Professor | Spatial Statistics, Spatial Econometrics, Tourism, Urban Transportation Planning |
| ICHINOSE, Tomohiro | Professor | Landscape Ecology and Planning, Rural Planning |
| IKEDA, Yasushi | Professor | Architecture and Urban Design |
| KANIE, Norichika | Professor | International Relations, Earth System Governance |
| KOBAYASHI, Hiroto | Professor | Architecture and Urban and Rural Design |
| MATSUKAWA,Shohei | Associate Professor | Architectural Design, Algorithmic Design, Design Process Theory |
| MIYAMOTO,Yoshiaki | Assistant Professor | Meteorology and Climate Science |
| OKI,Satoko | Associate Professor | Seismology, Disaster Information, Safety Education, Communication of Disaster Science |
| OMAE, Manabu | Professor | Mechanical Engineering, Automotive Engineering, Advanced Vehicle Control and Safety Systems |
| SHAW, Rajib | Professor | Environment and Disaster Management |
| SHIRAI, Yuko | Associate Professor | Urban engineering / Environmental science / Forest and water environmental system / From forest to timber to wooden architecture / Social system for public property / Urbanism in Germany and France / Technological developments in forestry |
| VU, Le Thao Chi | Project Assistant Professor | Risk Behavior, Decision-Making, Human Security, Public Health |
| ◎ YAN, Wanglin | Professor | GIS, Urban and Regional Environment, Climate Change, Science of Sustainability |
| YOSHIZAKI,Hitoshi | Associate Professor | Environmental Policy, Environmental Engineering |
Sub-members:
| Name | Title | Research Interest(S) |
| --- | --- | --- |
| ISHIKAWA,Hajime | Professor | Landscape Architecture, Geographic Design |
| KATAOKA, Masaaki | Professor | Local Government, Data Science |
Possibilities after Graduation
Those graduating in this Program are expected to work as specialists in landscape design, architecture and urban planning. They may also find work as planners, researchers and / or coordinators in the field of politics, environment, urban development, real estate, transportation and financial sectors. Furthermore, students will be able to qualify for the national test for First-class Architects and Building Engineers (Ikkyu Kenchikushi) by earning prescribed credits.