Cyber Informatics(CI)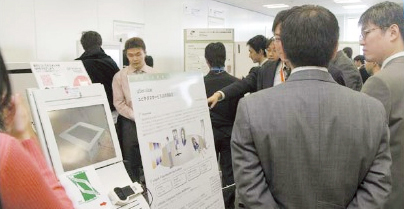 This Program develops men and women who can design the upcoming ubiquitous network society and those who can create the platform that provides the infrastructure. These are the people who create new trends in the IT field. The IT specialists that this Program aims to develop are:
Professional engineers capable of joining a business and contributing immediately
Researchers and innovators with bold technological vision
Venture entrepreneurs who understand the technology
CIOs and designers who deploy and use the technology
The Program focuses on "Novel Computing and Communication Systems" that go beyond the framework of existing computer science. The core areas of the Program are:
Internet Systems and Applications
Ubiquitous Computing and Networking
System Software
Knowledge and Information Systems
Information Security
Interaction Design
Enterprise Computing
Each area has systematic courses. Through taking these courses and pursuing advanced, practical research in Project Courses, students acquire the ability to practice IT and resolve problems in the real world.
Affiliated Projects
Mobile and Ubiquitous Internet
Ubiquitous Computing and Networking
Novel Computing
Place and Mobile Media
IT Systems
Virtual Value Research
Interaction Design
CI project
Cognitive and Language Development and Learning
Graduate School of Media and Governance > Registration Numbers of Graduation Project
Interview

Designing the Ubiquitous Network Society
Tatsuya Hagino
Professor, Program Chairperson
The computer, the Internet, and other digital technology developed in the 20th century now provide the social infrastructure that supports people and society in the 21st century. The CI Program conducts a broad range of research activities aimed at creating a future society that is affluent, safe and fun: research into the technology and methods required for network construction and the digital processing of information, including numerical expression, storage, transmission, concealment, and restoration; research into the new creation of the whole of space based on the information technology which is called 'ubiquitous computing'; research into applications and interfaces that connect people to technology; and research into the design of a new society, which we will have to consider after everything has been linked together.
Faculty Members (as of October, 2018)
Note: "◎" indicates the Program chairperson.
Name
Title
Research Interest(S)
AONO, Masashi
Associate Professor
Complex Systems, Natural Computing, Post-Silicon Computing, Origins of Life
ATAKA, Kazuto
Professor
Value design in AI x Data age
◎ HAGINO, Tatsuya
Professor
Software Science (System Software, Web Technology)
HATTORI, Takashi
Professor
Computer Science
KAWASHIMA,Hideyuki
Associate Professor
Database, Transaction Processing, System Software
KIYOKI, Yasushi
Professor
Multimedia Database, Multidatabase Regal Policy
KUSUMOTO, Hiroyuki
Professor
Computer Network
MASUI Toshiyuki
Professor
User Interface, Ubiquitous Computing
MITSUGI, Jin
Professor
Wireless Communications, Computational Engineering
MURAI, Jun
Professor
Computer Communications, Operating System
NAKAMURA, Osamu
Professor
Computer Science, Internet
NAKAZAWA, Jin
Associate Professor
Distributed Systems, Middleware, Ubiquitous Computing,
Computer Networks
OGAWA, Katsuhiko
Professor
Communication Design, Network Sociology, Human Interface
SHINJO, Atsushi
Professor
Information Policy, Computer Science, Agri-InfoScience, Health Science, Advanced Photonics
TAKASHIO, Kazunori
Professor
Distributed Systems, Real-Time Systems, Mobile Computing, Ubiquitous Computing
TAKEDA, Keiji
Professor
Information Security (Intrusion Detection, Security Architecture, Software Security etc.)
TAKEFUJI, Yoshiyasu
Professor
Neural Computing, Internet Gadgets, Security, Energy Harvesting
UEHARA, Keisuke
Associate Professor
Computer Networks
VAN METER, Rodney D.
Associate Professor
Quantum Computing, Post-Moore's Law Computer Architecture, Distributed Mass Storage Systems
YAHAGI, Naohisa
Associate Professor
System Strategy, System Design, Strategy for value-based healthcare delivery
Sub-members:
| Name | Title | Research Interest(S) |
| --- | --- | --- |
| IBA,Takashi | Professor | Pattern Languages, Creativity, Complex Systems, Social Systems Theory |
| KAWAZOE, Takeshi | Professor | Harmonic Analysis on Lie Groups, Fourier Analysis, Wavelet Analysis |
| MIYAMOTO, Yoshiaki | Assistant Professor | Meteorology and Climate Science |
| NAKANISHI, Yasuto | Professor | Information Design, Experience Design, Human Interface, Mobile Computing, Urban Computing, Design Aid System, Creative Activity Support |
Possibilities after Graduation
This Program is focused on training IT specialists who can design/assemble the information infrastructure that forms the foundation of the information society, and intellectual information systems that are easy to use. These specialists are the designers/constructors of the cyber-society, information educators, corporate education managers, venture entrepreneurs, and leading researchers who can identify and resolve problems, as well as disseminate their knowledge.