Curriculum
The Faculty of Policy Management and the Faculty of Environment and Information Studies have implemented a new curriculum from academic year 2014.
Structure of the Four-year Curriculum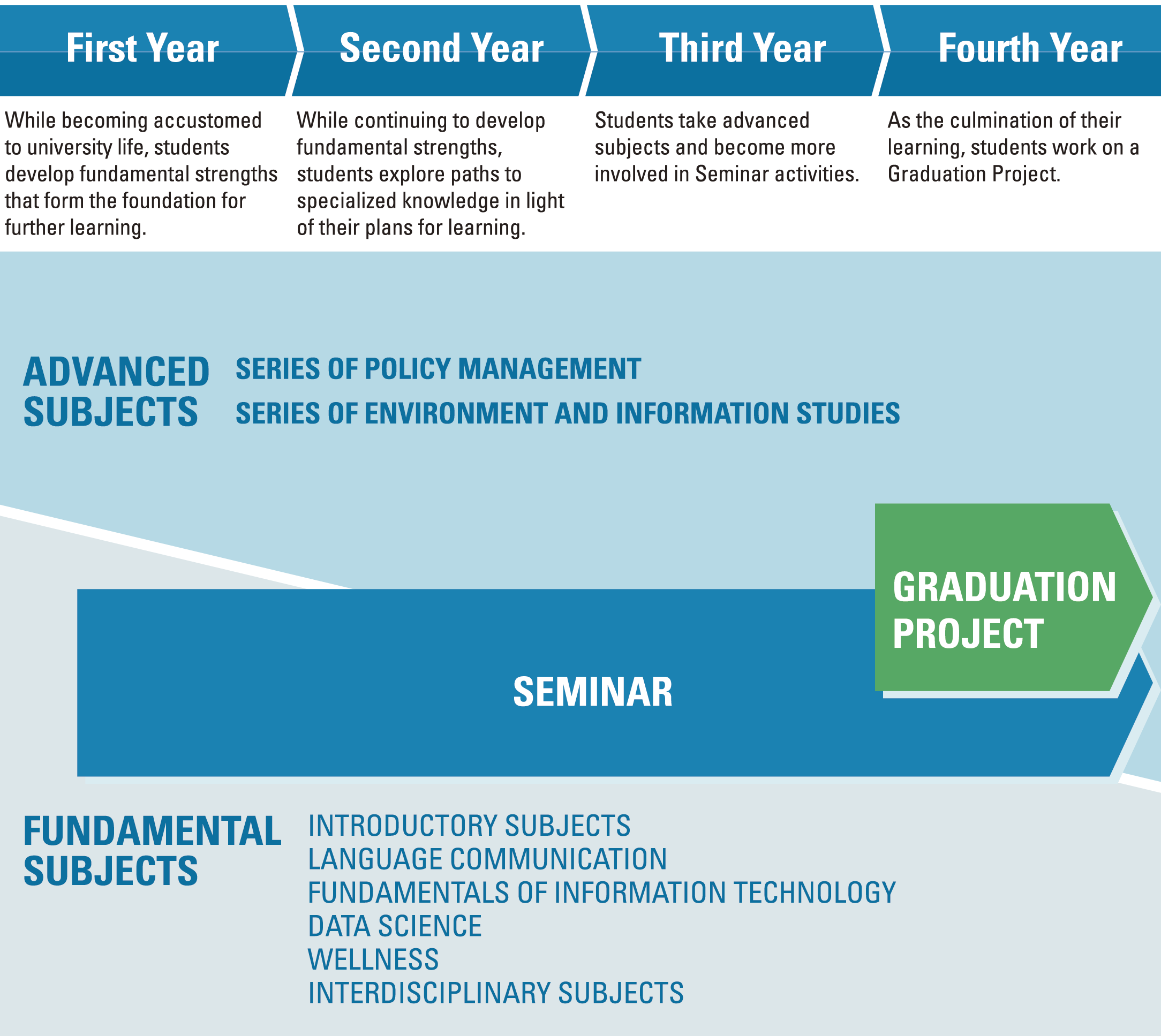 Curriculum for Students who Entered in Academic Year 2013 or Before
Seminar
In Seminars students are expected to work on advanced research themes and issues while acquiring the ability to shape the future.
Graduation Project
In Graduation Project courses, students write theses, work on projects (where they produce models and visual images, etc.) or conduct academic research using the skills and knowledge acquired at SFC.
Freshman Courses
In Freshman Courses, students are taught to employ creative learning techniques and are gradually made to move away from mere knowledge acquisition and learning by rote.
In Creative Courses (practice), students experience wonder and awe, and angst of creation and practice.
In Frontier Courses (introductory), students are introduced to the fascinating world of advanced research and understand the importance of acquiring skills necessary for their research work.
In Introductory Courses, students are taught to develop the basic parameters of their research projects.
In Refresher Courses, students brush up their knowledge and skills of subjects they have leaned before entering university, such as English, Information Technology and Mathematics.
Creative Courses
In Creative Courses, students acquire knowledge and develop skills to shape the future.
In Creative Courses (skill), students learn the methods and techniques that they use to develop the basic framework of their creative research.
In Creative Courses (philosophy), students acquire a detached perspective of research methodology and intellectual activity. The course aims to help students to advance ahead vigorously in their research activities.
The "SFC Curriculum: On Designing the Future" emphasizes the development of four types of skills through its creative courses such as Programming Courses, Knowledge Skill Courses, Language Communication Courses, and Wellness Courses. These courses can help students to develop skills they can use in creating the basic framework of their research.
Programming Courses
By pursuing Programming Courses students can develop programming skills which can help them to use computers creatively and dexterously.
Knowledge Skill Courses
In Knowledge Skill Courses, students learn a wide range of issues from problem identification to problem solution. The courses are divided into five groups such as Data Acquisition, Data Compilation, Data Analysis, Modeling and Simulation, and Mathematical Science. The step-by-step division leads students from issues of problem identification to problem solution.
Language Communication Courses
SFC is enthusiastically promoting foreign language education to enhance language communication. Students are offered Malay-Indonesian, Arabic, Korean, Spanish, German, French, Chinese, Russian, Italian, and Japanese language courses, as well as English language courses.
Students can acquire linguistic skills in small groups in Intensive Courses that are held four times a week. They can take Skill Courses where classes are organized under different themes. Students may also study abroad to enhance their language skills firsthand. Overall, students can master foreign language skills that can be useful in fieldwork activities and classroom presentations, reading literary documents, writing research papers, and debating and negotiating in these languages.
*Available courses (Intensive, Basic, Skill, and Study Abroad courses) may differ according to each language studied.
Foreign Language Courses
Arabic
Korean
Malay-Indonesian
Chinese
Spanish
German
French
English
Japanese
Exchanges with Overseas Universities/Institutions
Wellness Courses
Wellness Courses are held not only to improve mental and physical health, but also to improve self-study. SFC offers a wide variety of Wellness Courses which are unique for a university which does not teach athletics as major courses. About thirty courses in all, such as Golf, Aerobics, Qigong, and Scuba Diving courses are offered to students. SFC believes that the development of both physical and mental health is essential to pursue fruitful study and research. SFC considers The Wellness Courses do not just provide gymnastic exercises but support the basic structure of human beings that play a pivotal role in the environment.
Frontier Courses
In Frontier Courses, students are helped to develop the intellectual foundation to conduct advanced research.
In Frontier Courses (intermediate), students acquire the basic knowledge and perspectives required to pursue advanced research activities.
In Frontier Courses (advanced), students learn about specific areas, deepen their knowledge and widen their perspective in order to conduct sound research.
Research Mentoring System
Research Mentoring System supports students in their research and study. A mentor functions as an advisor, a counselor and a professor. Research mentors give advice to students individually, help them to set clear objectives about specialized research area and life in general. The guidance of research mentors helps students to bring their research to fruition.
Global Information and Governance Academic (GIGA) Program
The GIGA Program, launched in 2011 under the Faculty of Environment and Information Studies, will expand to the Faculty of Policy Management in 2015. The program is an international program that allows undergraduate students to acquire degrees by successfully completing course work in English. It will provide wide-ranging opportunities to study governance, management, and international relations. With the twin faculties, the expanded GIGA Program will aim to cultivate highly competent professionals and leaders in the global, multilingual and multicultural society.
Please visit the GIGA Program website for more information regarding the program.