X-Design(XD)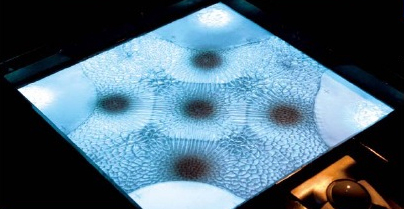 Science technology and cultural infrastructure has made tremendous progress in the twenty-first century. Computers have become ubiquitous in modern society, and people have acquired a new concept of value and have altered their ways of thinking, perception and acknowledgment. They have adjusted to the stupendous social changes and evolved new procedures to manufacture and develop systems. In brief, the twentieth century habits of mind and evaluation have become obsolete. In a rapidly advancing society where life environment and social circumstances have reached their limits, people who design and embody future aims and goals have become invaluable. This program emphasizes "creative mind" in research and endeavors to train people who can combine hitherto separated areas such as:
Art and Science
Culture and Industry
Development and Expression
Logic and Sense
User and Maker
Craft and Technology
Affiliated Projects
Designing Real
Social Fabrication
Mobile Methods
Life Knowledge in Practice
Place and Mobile Media
Graduate School of Media and Governance > Registration Numbers of Graduation Project
Interview

Welcome to the Experimental Studio that Syncretizes Art and Design
Yasuto Nakanishi
Professor, Program Chairperson
Since its founding, SFC has emphasized the power of problem-finding and problem-solving. The former is handled in the field of art, while the latter is the very purpose of design. It goes without saying that these fields should not deal with their respective subjects separately, but that they should function in harmony. The XD Program is a graduate school program that conducts research in diverse fields related to art and design. We do not separate engineering, the humanities, the social sciences, and the arts. This is an experimental place for artists, researchers and practitioners from various backgrounds to discuss, create and come together.
The XD Program emphasizes diversity above all else. We cover a wide range of fields, including music, movie, graphics, robotics, media art, fashion, product design, criticism, communication, digital fabrication and many more. Students belong to a supervising faculty member's studio, work together and separately on projects, and repeatedly present and discuss their projects in design reviews in which all faculty members and students in the Program participate. In this way, they produce their own research through open creation, sharing the joy of production, methodology and vision, which are the essence of thinking. The real thrill of learning in the XD Program is that you are immersed in a sort of 'ecosystem of creation', rich in diversity.
The XD Program values the spirit of alternative thinking and independence. This is a spirit that strives for and aims to create what is truly original--without ingratiating itself to design and art that are seen as authorities. The zealous pursuit of advanced technology, the emphasis on fieldwork and the stress on reflection through prototyping that are the hallmarks of the XD Program arise from our deep and passionate desire to create things that are truly new. This is no other than the spirit expressed in the principles of 'independence and self-respect' and 'do what others have never done before', which were valued by Keio University founder, the venerable educator Yukichi Fukuzawa. I strongly believe that Keio University's XD Program is the most stimulating place to learn about the future of art and design.
Faculty Members (as of April, 2016)
Note: "◎" indicates the Program chairperson.
Name
Title
Research Interrest(S)
ISHIKAWA, Hajime
Professor
Landscape Architecture, Geographic Design
KAKEHI, Yasuaki
Associate Professor
Interactive Media, Augmented Reality, Media Arts, Human Interface
KATO, Fumitoshi
Professor
Communication design; Facilitation; Communication and media studies; Qualitative research methods
MIZUNO,Daijiro
Associate Professor
Fashion Design Critique and Practice, Design for Social Inclusion, Interdisciplinary Design Research
NARUKAWA, Hajime
Associate Professor
Fine Art, Design, Architecture, Perspective Drawing, World Map Projection, Data Visualization
◎NAKANISHI, Yasuto
Professor
Information Design, Experience Design, Human Interface, Mobile Computing, Urban Computing, Design Aid System, Creative Activity Support
ONISHI, Takuya
Assistant Professor
Extreme, Portable/Light-weight Architecture and Energy Design
TANAKA, Hiroya
Professor
Design Tool, Design Machine, Personal Fabrication, Social Fabrication
WAKITA, Akira
Professor
Geometric Modeling, Computer Aided Design, Smart Material
Sub-members of the Program:
Possibilities after Graduation
The program aims to develop creators who design innovative value with integrating their own five senses, skills and advanced technology. Some graduates of this program join domestic and international industries such as telecommunication, business consulting, electronic appliance, game, CG design, broadcasting, movie, advertising, WEB, cellular phone contents and publishing. Yet some graduates of this program have become artists, Ph.D. students or faculties in universities, and founders of venture companies. They would be called designer, artist, engineer, design researcher, design engineer, design director, art director, media artist or media architect. Furthermore, we hope they could develop new types of work beyond established category.