X-Design(XD)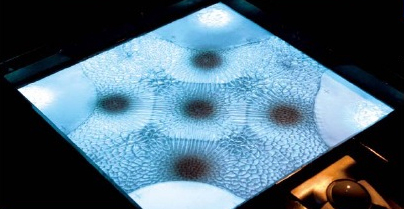 Science technology and cultural infrastructure has made tremendous progress in the twenty-first century. Computers have become ubiquitous in modern society. People have acquired a new concept of value and have altered their ways of thinking, perception and acknowledgment. They have adjusted to the stupendous social changes and evolved new procedures to manufacture and develop systems. In brief the twentieth century habits of mind and evaluation have become obsolete.
In a rapidly advancing society where life environment and social circumstances are have reached their limits, people who design and embody future aims and goals have become invaluable. The program emphasizes "the creative mind" in research and endeavors to train people who can combine hitherto separated areas such as:
Development and Expression
Technique and Technology
Scientific Reason and Artistic Sensitivity
Logic and Ethics
Value for Producers and Value for Users
Affiliated Projects
Cybersound Project
Place and Mobile Media
Designing Real
Contemporary Socio-Cultural Research Project
Life Knowledge in Practice
Network Style
Social Fabrication
Graduate School of Media and Governance > Registration Numbers of Graduation Project
Faculty Members (as of April, 2013)
Note: "*" indicate the members of the graduate school committee; "◎" the Program chairperson.
Name
Title
Research Interrest(S)
* IWATAKE, Toru
Professor
Music Composition, Computer Music
* KAKEHI, Yasuaki
Associate Professor
Interactive Media, Augmented Reality, Media Arts, Human Interface
* KATO, Fumitoshi
Professor
Communication design; Facilitation; Communication and media studies; Qualitative research methods
MIZUNO,Daijiro
Assistant Professor
Fashion Design Critique and Practice, Design for Social Inclusion, Interdisciplinary Design Research
* NAKANISHI, Yasuto
Associate Professor
Information Design, Experience Design, Human Interface, Mobile Computing, Urban Computing, Design Aid System, Creative Activity Support
* TANAKA, Hiroya
Associate Professor
Design Tool, Design Machine, Personal Fabrication, Social Fabrication
*◎WAKITA, Akira
Associate Professor
Geometric Modeling, Computer Aided Design, Smart Material
Sub-members of the Program:
| Name | Title | Research Interrest(S) |
| --- | --- | --- |
| * OGAWA, Katsuhiko | Professor | Commnication Design, Network Sociology, Human Interface |
| * SUWA, Masaki | Professor | Cognitive Science, Communication Design, Artificial Intelligence, Design Science |
Possibilities after Graduation
This Program aims to produce creative directors, technical directors, CTOs, producers and CEOs in cultural industry such as media arts and design. It also aims to produce educators, curators and artists. Some graduates of MD Program have become artists and some faculty members at universities. Yet there are some who join domestic or international industries such as telecommunication, business, consulting, electronic appliance, game, CG design, broadcasting, movie, advertising, WEB, cellular phone contents and publishing. The Program also encourages graduates to start their own venture business.