Student Life

Group Activities
Students sharing the same interest organize themselves into groups called "circles". "Circle" activities are quite popular amongst Japanese university students. A wide variety of about 120 student organizations such as tennis, soccer, dance and music "circles" rehearse on a regular basis at SFC. A group of students can start their own "circle" after completing the necessary procedure.
Athletics League
The Keio University athletics organization, called "Taiiku Kai", allows students to participate in games, matches and tournaments representing Keio University. There are currently 40 organizations including the Baseball Club and the Rugby Football Club in the University. These organizations play trailblazing roles in Japanese student sports.
Housing Support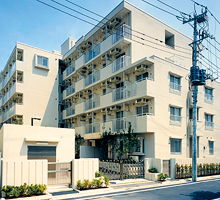 Regarding housing near Shonan Fujisawa Campus (SFC), we recommend you to find your apartment at realtors near Shonandai Station, or to examine dormitories recommended by SFC. You can also refer to housing information at the lobby of Alpha Building, SFC. In March, housing consulting opportunity (called "Campus Village" managed by SFC students) for incoming students is available. You can also apply for Keio University Dormitories like "Shimoda Student Village" located near Hiyoshi Campus, where international students and the members of the athletic associations live together, "Omori Student Dormitory" in Tokyo.
SFC and Its Environs
SFC is situated in Fujisawa, a scenic city located near the historic sites and sightseeing attractions of Kamakura, Yokohama and Tokyo. Once a weekend getaway for affluent Tokyo residents, Fujisawa has evolved into a hub that combines the best features of urban and rural life. Its moderate climate, proximity to beaches and relaxed pace of life provide students with a serene ambiance for their studies, while its excellent restaurants and cafes give welcome refreshment in free time. Trains from Fujisawa connect to Shinkansen bullet trains, by which Kyoto, Nagano, Osaka and Nagoya can be reached.
Student Life Section
The Student Life Section provides information regarding scholarships, insurance, housing and events for students to support their campus life at SFC.
Students Life Section
Telephone: +81-466-49-3408
E-mail: sl@sfc.keio.ac.jp