2022.06.23
News
SFC News
Prof. Rodney Van Meter received the Best Tutorial Paper Award presented by the IEEE Communications Society
Congratulations to Prof. Rodney Van Meter of the Faculty of Environment and Information Studies for winning the IEEE Communications Society Best Tutorial Paper Award (BTPA).
The BTPA is awarded to an outstanding tutorial paper written by non-IEEE members published in any IEEE Communications Society magazine or journal in the previous five calendar years.
The award-winning entry was titled "When Entanglement Meets Classical Communications: Quantum Teleportation for the Quantum Internet," a paper co-written by Prof. Van Meter and other authors from Japan, Italy, and the United Kingdom discussing the Quantum Internet. The paper focuses on quantum teleportation, an essential communication functionality of the Quantum Internet, and aims to shed light on how to construct it effectively.
Prof. Van Meter is Vice Center Chair with the Keio Quantum Computing Center, a Board Member of the WIDE Project, an Advisory Board Member of the Quantum Internet Task Force, co-chair of the Quantum Internet Research Group in the Internet Research Task Force, and editor in chief of IEEE Transactions on Quantum Engineering. His research interests include quantum networking, quantum computing, quantum education, storage systems, networking, and post-Moore's law computer architecture.
Comments from Prof. Rodney Van Meter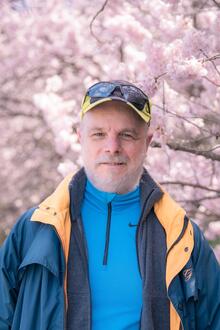 "Professors Cacciapuoti and Caleffi, like me, are coming to quantum computing and communication from a classical computing and communications background, so when they approached me about a collaboration early in their shift toward quantum I knew what their learning experience is like and I was happy to work with them. They already had a vision for what they wanted to learn, do and ultimately teach. As always, learning by doing is highly effective, and we were able to leverage that learning to create this paper. One very nice aspect of this paper is that we show how today's small-scale quantum computers can be used to study the behavior of upcoming quantum networks, just like we simulate classical networks using classical computers. Professor Hanzo joined us during the writing process, and his writing and precision editing really pushed the paper from good to outstanding. So, this was very much a four-way collaboration that will help bring other classical people in the quantum field, as well as help create new quantum native engineers who can bridge the classical-quantum transition. Professors Cacciapuoti and Caleffi are now leaders in this emerging field of Quantum Internet as both researchers and educators. I'm hoping we'll all work together again on new projects!"
Details of the IEEE Communications Society and the Award
Profile of Prof. Rodney Van Meter
Released by: General Affairs Office at Keio University Shonan Fujisawa Campus (SFC)