2022.05.16
News
SFC News
Congratulations to Estelle Rust, a PhD candidate at the Graduate School of Media and Governance for winning the Honourable Mention of 2022 ASAH Emerging Scholar Award
Congratulations to Estelle Rust, a Ph.D. candidate of Assistant Professor Mamoru Fujita's Seminars at the Graduate School of Media and Governance, for being awarded the Honorable Mention for the 2022 ASAH Emerging Scholar Award. The Australian Society for Asian Humanities (ASAH) promotes knowledge of Asia in Australia. It provides a venue for scholars working in Asian humanities to present their work to their peers and others interested in Asia. ASAH issues The Journal of the Society for Asian Humanities (JOSAH), the society's flagship publication. JOSAH has been issued continuously since 1960, making it the oldest journal on Asia currently published in Australia. The ASAH Emerging Scholar Award is given to the papers submitted to JOSAH, written by early-career researchers who devote themselves to Asian Humanities studies. Estelle was awarded the Honorable Mention, impressing the judges with her high-quality submission.
Estelle's paper is titled "Contents Tourists and Content Production: The Negotiation of Site Narratives by Tōken Ranbu Fans in Japanese Domestic Tourism." After graduating from the University of Sydney with a Bachelor of Arts in Anthropology and History, she came to Keio University to undertake the Master's and Ph.D. programs. Estelle's study focuses on anthropological research involving the intersection of grassroots communities and local cultural heritage in both Australia and Japan.
Comments from Estelle Rust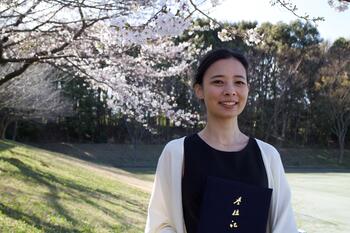 "When I saw the call for submissions put out by the Australian Society for Asian Humanities, I saw it as an opportunity to share internationally some of the tourism and heritage practices in Japan. In researching and writing my submission, I came across large categories of 'pop-culture' and 'tourism', but also came to realise the impact that simply speaking to one another has on our understanding of a place and its layers of history. In the end, I wrote my submission to share not just tourism in Japan, but the enthusiasm that local people and visitors have in connecting with each other. I hope that my work can continue to promote these interactions, and encourage readers to look to their own local areas and the people within them to see their own as-of-yet little known histories."
Australian Society for Asian Humanities (ASAH)
Released by: General Affairs Office at Keio University Shonan Fujisawa Campus (SFC)