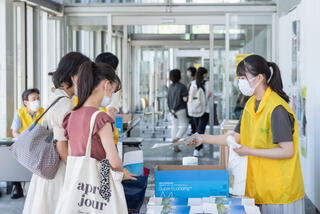 Keio University Shonan Fujisawa Campus (SFC) held an Open Campus event for high school students and prospective students who wish to study at the Faculty of Policy Management and Faculty of Environment and Information Studies. In 2021, we rolled out multiple events in a hybrid format, both online and on-campus. Following the Pre-online Open Campus (held on June 18), the Open Week was held from August 17 to 20 and the Online Open Campus on August 24.
Open Week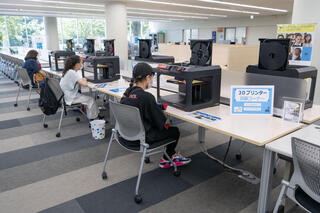 During the four days of Open Week, in order to prevent crowding, participants who applied in advance were able to freely explore the grounds of Shonan Fujisawa Campus. We received many comments from the participants, such as "Being able to visit the actual campus motivated me to study harder" and "I was able to peacefully walk around campus, as exhaustive infection prevention measures were in place."
The Digital Stamp Rally was a great way for participants to explore SFC's various charms, with stops set up throughout the campus where SFC students were on hand to welcome participants with their smartphones in hand.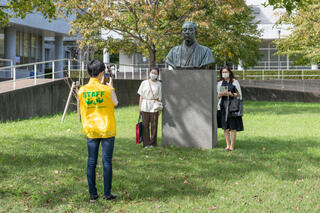 Despite the hot and humid weather, participants were able to enjoy their time at SFC at their own pace by taking in the sites that piqued their interest on foot, relaxing by the duck pond, getting lunch at the cafeteria, and purchasing official Keio goods.
Online Open Campus
The Online Open Campus introduced SFC from various angles through streamed videos of the academics and admission process of SFC, live-streamed mock lectures and round-table talks.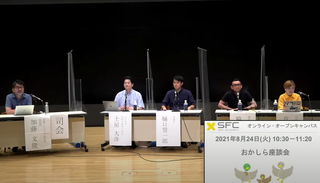 In the "Okashira Round-table Discussion", the deans and graduates of SFC talked about SFC's unique seminars and their career paths after graduation.
This year we hosted a Communication Corner via Zoom as a platform for persons interested in SFC to freely discuss with current students. Group discussions were held in three groups for those who are new to SFC and those who are interested in studying at SFC. In response to questions submitted via a question form in advance and by chat, current students shared their unique insights into daily life on the SFC campus.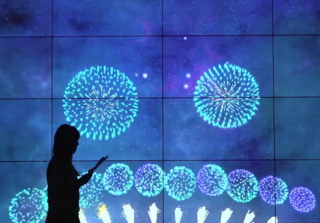 At the closing ceremony, a round of virtual fireworks that also lit up the Online Tanabata Festival were displayed, bringing the SFC Hybrid Open Campus to a close.
The video archives of the live streams remain available to watch on the website for the hybrid online open campus event. Please check them out.
General Affairs Office at Keio University Shonan Fujisawa Campus (SFC)