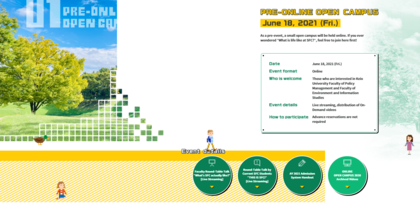 Keio University Shonan Fujisawa Campus (SFC) holds an Open Campus event every year for high school students and prospective students who wish to study at the Faculty of Policy Management and Faculty of Environment and Information Studies. In 2021, we will be rolling out multiple events in a hybrid format, both online and on-campus. As a preliminary event, a Pre-online Open Campus was held on Friday, June 18 in both Japanese and English.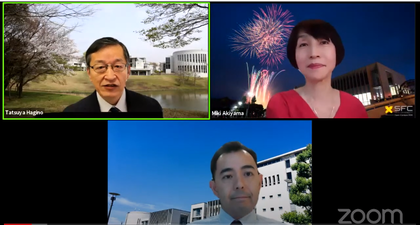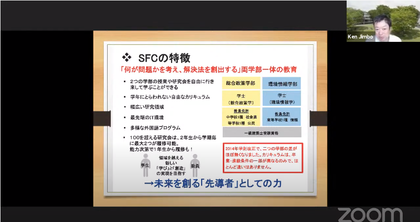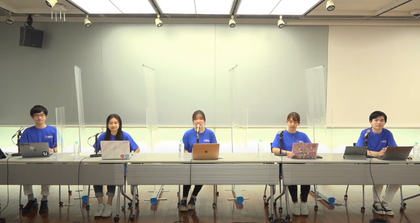 In the live broadcast, a round-table talk was held between faculty members and current SFC students.
Faculty members from the Faculty of Policy Management and Faculty of Environment and Information Studies discussed the theme of "What's SFC actually like?" in a program that introduced the many features of SFC, including the curriculums, latest facilities, and information about entrance exams, while many questions were also received in the Chat box. The faculty members gave impassioned messages about what SFC can provide to students and the characteristics that are looked for in prospective students.
In the program conducted by current SFC students, they answered questions which had been submitted via a question form in advance, discussing things such as what it is like to learn at SFC and about the commute to the campus, which gave the listeners a real sense of life as an SFC student. Questions were also asked via Chat, and the current students gave advice based on their own experiences to those aiming to enter SFC on how to prepare for the entrance exam and what can be done from now.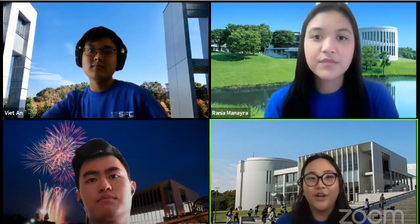 The website also introduces other content allowing visitors to experience SFC online, such as a collection of materials on the 2021 admissions system, archived videos available on demand and other features of SFC learning as well as virtual campus tours.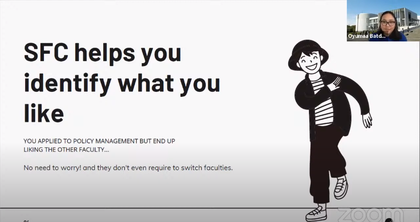 The total number of simultaneous viewers for the live-streamed content rose to approximately 2,500 people. The event became an open campus program that enabled everyone to experience SFC together irrespective of time differences or geographical distance, which was only made possible by being conducted online.
The video archives of the live streams remain available to watch on the website for the hybrid online open campus event. Please check them out.
In August, Shonan Fujisawa Campus will be open to the public during Open Week (August 17-20 *this event may be canceled depending on the spread of COVID-19 infections), while an Online Open Campus will also be held (August 24). We hope you continue to experience SFC in both the real and virtual worlds.
SFC Hybrid Open Campus
Pre-online Open Campus
Released by: General Affairs Office at Keio University Shonan Fujisawa Campus (SFC)