2021.01.20
News
SFC News
Prof. Rajib Shaw Awarded the Pravasi Bharatiya Samman Award, the Highest Honor Conferred on Overseas Indians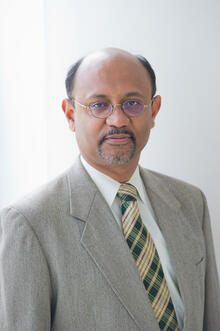 Congratulations to Prof. Rajib Shaw of the Keio University Graduate School of Media and Governance for being awarded the Pravasi Bharatiya Samman Award (PBSA), the highest honor conferred on overseas Indians and persons of Indian origin.
Prof. Shaw received the award under the education category, and in particular recognizes his long term-contributions in the field of education in the context of India-Japan relations. This includes important research on post-disaster school retrofitting in various affected areas in India as well as contributions to higher education between the two countries.
The PBSA is awarded by the Ministry of External Affairs of India and the results were conferred by the Hon'ble President, His Excellency Ram Nath Kovind.
Prof. Shaw is deeply engaged in encouraging India-Japan collaboration, such as by establishing the India Japan Lab (IJL) at Shonan Fujisawa Campus, which aims to continue promoting different levels of collaboration on higher education, research, and innovation between students and young professionals in both countries.
About receiving the PBSA, Prof. Shaw writes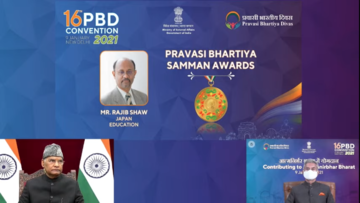 Conferring of the Pravasi Bharatiya Samman Awards during
the 16th editionof the Pravasi Bharatiya Divas (PBD)
virtually on January 9, 2021.
"Human resource development is the core of long term India-Japan partnership. In this regard, we hope to encourage more Indian students to come and study in Japan, as well as experience Japanese work culture. Also, more Japanese students need to explore the developmental potentials and social challenges in India. We, at the IJL of Keio University, are committed to enhancing stronger bilateral ties between the two countries."