Miraisozojuku Project
Miraisozojuku Project
The Miraisozojuku project was launched in 2007 with the aim to create a residential education and research facility where students, faculty members, and others from within and outside the university, and from all over the world, can live and learn together at SFC in the spirit of hangaku hankyo--learning while teaching, teaching while learning.
As part of the Miraisozojuku project, Student Built Campus (SBC) was established by students, faculty members, and alumni in 2015. Students and faculty members of the SBC Joint Seminar are taking the lead in shaping a new campus in the East Zone under the concept of "Creating the Campus of the Future with Our Own Hands."
SBC planned construction of a total of seven buildings with differing designs and uses with the goal to plan and manage the buildings themselves and to be involved in all phases--from planning, design, construction, operation and verification, to disassembly. With a vision for an unprecedented way of being for a university, they focused not only on the physical aspects of the building, but also on aspects related to how the buildings will be used, such as educational programs and the operational system.
Completion of construction and beginning of trial operations took place in 2016 for House 1 and DFF-W, and in 2018 for House 2. In 2020 all SBC facilities were completed with the additional construction of β3, β4, β Dome, β Studio, and β Pavilion, and the area name East Zone was changed to the facility name β (Beta) Village, marking the commencement of full-scale activities at this new base for residential education and research.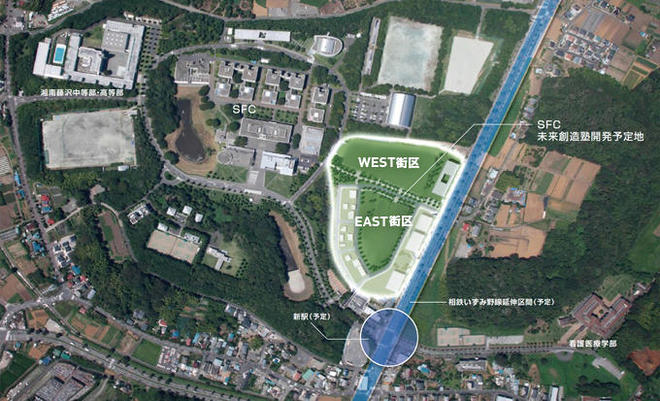 Facilities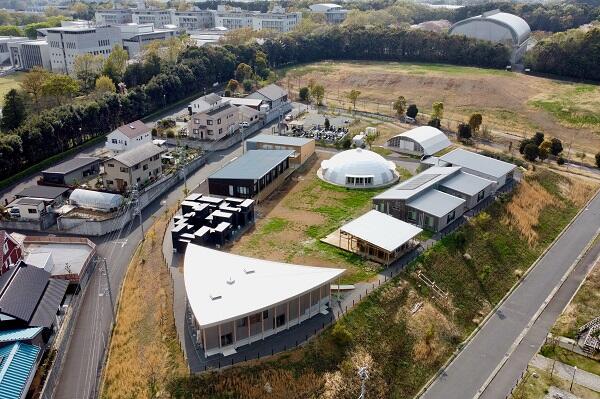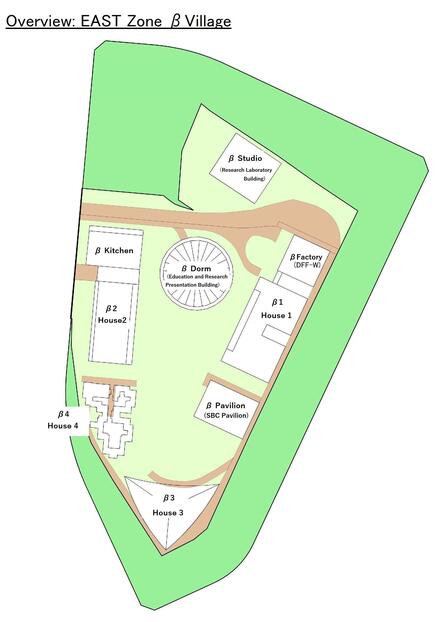 1.β1 (House1) and β Factory (DFF-W)
With a total floor space of 315 ㎡ and the capacity to accommodate 32 people, this is the initial residential facility of the SBC project to come to fruition. A spacious and multipurpose area that allows plentiful sunlight is found at the center of the building. At the same time, the eight bedrooms, each with bunk beds to accommodate four people, are designed to be as compact as possible. The kitchen and toilet areas are attached to the main building, but the shower room is housed in its own separate building that also offers space for washing outdoors. Both the front and back sides of the building have Japanese-style verandas, one example of how the building functions as a facility where people can experience a new style of learning that includes sharing meals and staying overnight together.
β Factory (DFF-W: Digital Fabrication Factory-Wood) is one of the centers for making things at SFC. It has a total floor space of 116 ㎡ and digital fabrication equipment suitable for wood processing.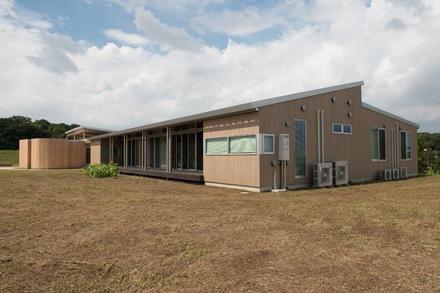 2.β2 (House 2) and β Kitchen
With a total floor space of 418 ㎡ and the capacity to accommodate 40 people, β2 (House 2) has five Japanese-style rooms and five Western-style rooms on the east side (left side of photo). The Japanese-style rooms can be opened up to become a single hall the size of forty tatami mats where a large group of people can sit in a circle and hold all-night discussions. Located on the west side of the building, β Kitchen (right side of photo) is equipped with a large island kitchen, and provides a space for cooking, eating, and drinking. β Kitchen functions not only as a kitchen for House 2 users, but also as a space for intermingling. These buildings were made using the Veneer House System, which allows amateurs to assemble veneer plywood into box shapes that serve as core structures, and thus the pillars and beams were constructed by students.

3.β3 (House 3)
With a total floor space of 385 ㎡ and the capacity to accommodate 35 people, this third residence building features an expansive discussion space on the second floor and capsule-type bedrooms on the first floor. The discussion space is divided into three levels without any walls, making it suitable for a variety of purposes. You can sit on cushions and have small discussion groups, or you can use a whiteboard and make a presentation to a large group. House 3 encourages a variety of styles of learning to take place.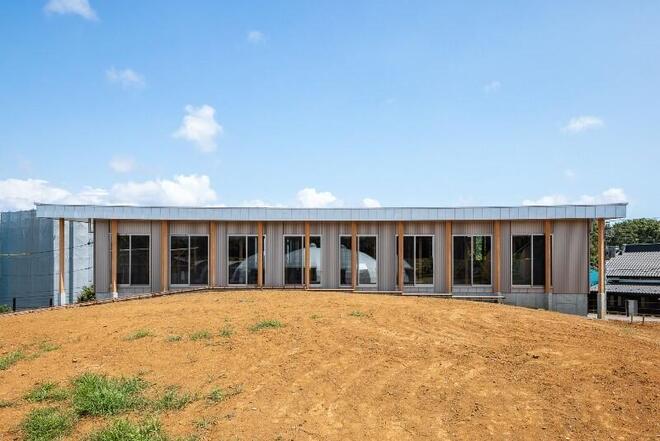 4.β4 (House 4)
With a total floor space of 83 ㎡ and a capacity to accommodate 12 people, this fourth residence building is catered to individual stays. The interior of this unique three-dimensionally connected building is very compact--you will find a bedroom immediately after climbing a ladder from the entrance. While the building is designed for individual use, a bench space was created by students in the courtyard of the building. The communal area is equipped with showers, toilets, and a kitchen. House 4 will be utilized by the like of students who stay on campus to work on their assignments, and faculty members and researchers for short-term stays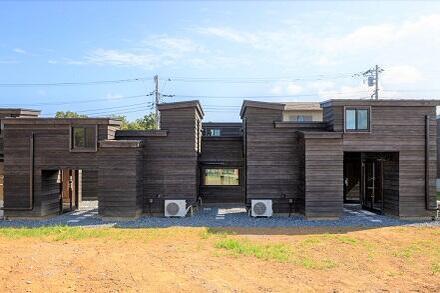 5.β Dome (Education and Research Presentation Building)
With a total floor space of 214 ㎡, β Dome is a 15 m diameter dome-shaped facility that can be used mainly for presentation of research results and exhibitions. β Dome stands out even among the other uniquely shaped buildings of β village. There are no pillars inside, and the dome was designed taking into calculations of how voices reverberate within so that sounds will travel effectively during presentations.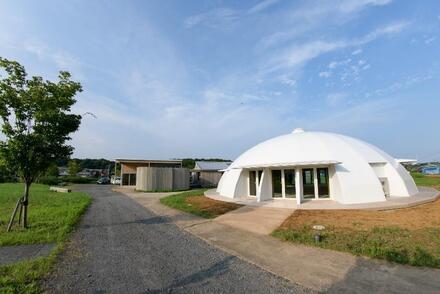 6.β Studio (Research Laboratory Building)
With a total floor space of 188 ㎡, this building is mainly used as a workspace for projects and practical training related to making things. Most of the building is made of paper tubes, and β Studio is the first building in Japan to use paper tubes as raw material. Inside, a portion of the left and right walls consist of shelves that can be changed in height, allowing for the storage of items created such as mockups.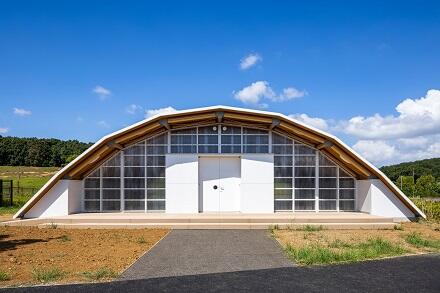 7.β Pavilion (SBC Pavilion)
With a total floor space of 66 ㎡, β Pavilion will house information on the philosophy, history, and usage of β Village, and serve as a link to those within and outside the university. This facility was originally constructed in the courtyard on the west side of Media Center (M Building) and was moved to β Village. β pavilion, with its all-glass exterior walls, will be managed by a volunteer student group, and is expected to become a facility that embodies the Student Built Campus philosophy.