Event Calendar

Campus Visit resumed (as of November, 2022)
We are pleased to announce that we have resumed on-campus visits. Please read the following precautions before visiting the campus.
Please be aware that changes may be made depending on the future situation regarding COVID-19.
Individual visitors are welcome to the campus without making a prior reservation. However, groups wishing to visit the campus are requested to provide the following information by email to the General Affairs Section. Group applicants will be contacted by the person in charge upon receiving the request.
Name of the visiting group and representative
Number of visitors
Purpose of visit (Special requests, if any)
Preferred date/time of visit (Please list available dates and times.)
Contact information
Please use public transport as parking is not allowed on campus.
In principle, entrance to some areas such as the classrooms and the library (Media Center) are restricted.
General Affairs Section
Telephone: +81-466-49-3404
E-mail: sfc-visiting@sfc.keio.ac.jp
Please click here if you come from abroad.
Important notes when visiting campus
・Please make sure to visit the campus between 9:30 a.m. and 4:30 p.m. on weekdays and Saturdays.
・A campus map for the self-guided tour, an SFC Undergraduate Program Brochure and a GIGA Program Brochure for prospective students are available on the first floor of the Media Center or the Alpha Building (Main Building). Please feel free to take them.
・It will be a self-guided tour and there will be no tour guide. Please freely explore the campus on your own.
・Please feel free to look around the campus while referring to the campus map. You may walk around the facilities, common areas, and the Media Center (library) on campus. Please note that in principle, you are not permitted to enter the classrooms and research rooms.
・If you have any inquiries about the GIGA Program, please visit the counter on the first floor in the Alpha Building (Main Building) between 9:30 a.m. and 4:30 p.m. only on weekdays. Please understand that we may not be able to provide support depending on the situation.
・You may eat at the cafeteria and restaurants on campus when visiting. Please take thorough precautions for prevention of infections.
Safety guidelines for COVID-19
・If you are feeling unwell, such as a fever or cold-like symptoms, please do not come to the campus.
・Please take your temperature before coming to the campus, wear a non-woven fabric mask, disinfect your hands, and avoid the three "Cs" (closed spaces/crowded places/close-contact settings).
・If you come from abroad, make sure to visit our campus after the quarantine period ends.Temperature checks are conducted at the designated gate located between the Omega Building and Alpha Building. Please make sure to go through the gate when entering the campus.
Persons found to have a fever will not be allowed to enter the campus.
・Large groups will not be able to enter the campus. If more than the confirmed number of people arrive on the day, they will not be able to enter the campus. We kindly ask for your understanding.
・Please use public transportation when visiting the campus (parking is not available). We ask that you check the bus schedule in advance. Also, please refrain from talking on the public transportations on your way to the campus.
・You may use on-campus restaurants for meals and eat in silence. Please be sure to wear a mask after eating and drinking.
※Click here for information on the Faculty of Nursing and Medical Care.(Japanese Only)
Please enjoy SFC online as well as real
Events
SFC Open Research Forum(ORF)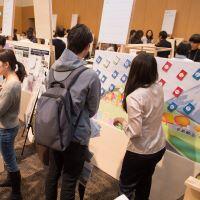 The SFC Open Research Forum (ORF) is an annual event hosted by the Keio Research Institute at SFC. The forum presents findings from research projects conducted at SFC to the world and promotes collaborative research among government and academic organizations, and businesses. Starting from its inaugural event in 1996, the event was held on SFC until 2002. Since 2003, the event has been held in various central Tokyo locations, such as Roppongi and Marunouchi, due to its expanded size.
Today the ORF continues to attract an impressive number of participants and attendees. Because it presents each year a concentrated wealth of innovative technologies devised by eminent engineers and researchers, the event receives significant attention from not only government and industry groups, but also the general public.
SFC Festivals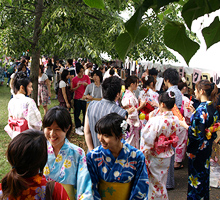 SFC's summer and fall festivals are the highlights of every academic year. Planned and organized solely by students, these two events enable students, faculty, staff, alumni and visitors to come together as a community and enjoy the turning of the seasons. Typical festival attractions, such as food stalls selling traditional snacks, flea markets and game booths, are complemented by performances where students display their talents in a myriad of interests ranging from dancing and singing to martial arts and cheerleading. The festivals reach their climax in the evening with spectacular fireworks that light up the night sky.
Event Calendar